Tantalize your taste buds at several Latin American restaurants all over Vancouver.  This evening tasting extravaganza goes from 6pm until 10:30 pm and is presented by Vancouver Foodster.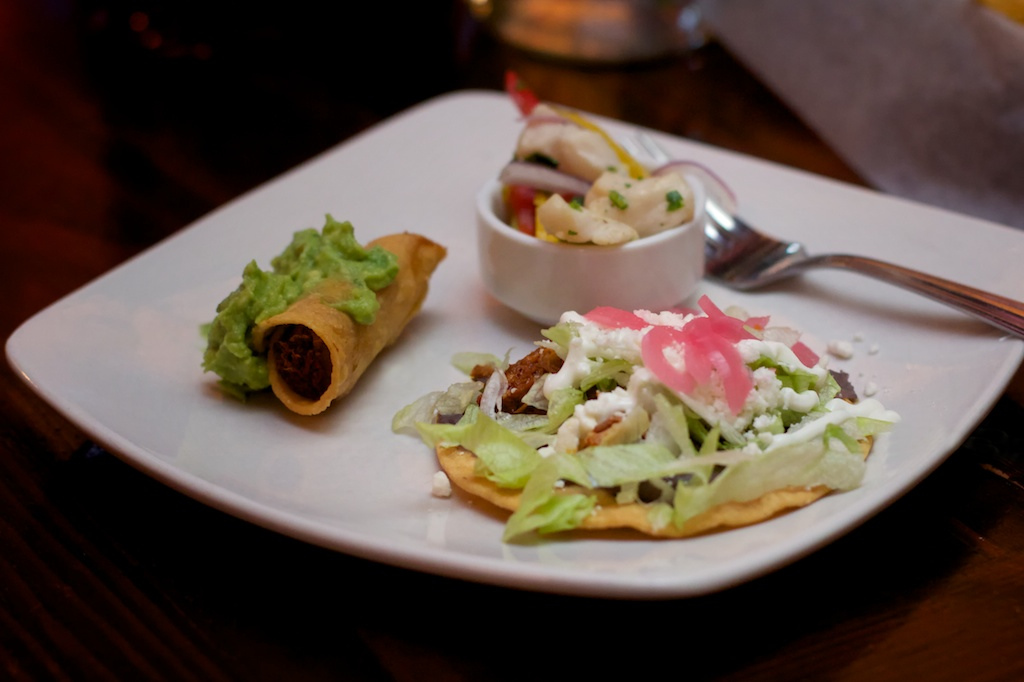 Each restaurant will be serving up Tasting Plates for guests to enjoy and you will have a chance to visit many different types of Latin American restaurants throughout the evening, meet some new food loving friends, meet the chefs, and learn about each of the participating restaurants.
Latin American cuisine refers to typical foods, beverages, and cooking styles common to many of the countries and cultures in Latin America. During our event you will have the chance to taste and experience dishes from Bolivia, Brazil, El Salvador, Peru and different regions of Mexico. You will also have a chance to try a variety of Latin American food and drink which may include ceviche, tortillas, tamales, tacos, pupusas, arepas, empanadas, tortas along with various salsas and other condiments. Desserts that you may have a chance to try include dulce de leche, alfajor, rice pudding, tres leches cake, teja and flan. You may also have a chance to try and experience beverages such as horchata, chicha, mate, hibiscus tea, cacao and aguas frescas.
If you haven't been to our previous Tasting Plates events, Novus TV featured one of our previous events on City Lights (view here).
Visit our Tasting Plates site and view our past events, photos and more!
Vegetarian options will be available at many of the participating restaurants.
Bring along a friend or two, your significant other, your family or come solo.
A food networking dinner event connecting Vancouver's vibrant food community.
Visit each of the participating restaurants at your leisure by bike, moped, transit, car, walking, skateboarding or carpooling.
Registration: A.G.R.O. Roasters & Cafe – this is where you will show us your printed or digital tickets and will pick up your Tasting Plates Cards.
Participating Restaurants:
Chicha Restaurant
136 East Broadway. Vancouver
Web: http://www.chicharestaurant.com/
Twitter: @ChichaVancouver
Cuisine: Peruvian
GUANACO FOOD TRUCK
2148 Main Street (in front of Brassneck Brewery -for our event)
Twitter: @guanacotruck
Cuisine: Salvadoran
SAL Y LIMON
Unit #5, 701 Kingsway (at Fraser)
Twitter: @Salylimonvan
Cuisine: Mexican
LAS TORTAS
3353 Cambie Street, Vancouver
Twitter: @LASTORTAS
Cuisine: Mexican
LA MEZCALERIA
1622 Commercial Drive
Twitter: @LaMezcaleriaYVR
Cuisine: Mexican

EL AZTECA MEXICAN KITCHEN & BAR 
1130 Mainland Street
Web: http://elaztecavancouver.com/
Twitter: @elaztecavan
Cusine: Mexican
A.G.R.O. ROASTERS & CAFE 
550 Clark Drive
Web: http://agrocafe.org/
Twitter:@agro_roasters
Cuisine: Cafe and Coffee Roaster
Purchase Tickets Here:
Advance Tickets: $40 per person. $120 for a 4 pack of tickets or $162 for a 6 pack of tickets (get a group of your friends/family together and save by purchasing a 4 pack or a 6 pack). Regular Tickets $50 per person after June 23, 2014.
Note: Eventbrite fee and GST is extra on all tickets purchased online.
Ticket price includes tasting plates at each of the participating restaurants throughout the evening. (Beverages are included at some restaurants which will be noted, you are welcome to purchase wine, beer, cocktails or mocktails at each of the participating restaurants).
Note: ALL Tickets must be purchased in advance online. All ticket sales are final. No exchanges or refunds; however you are welcome to transfer the ticket to another person for the same event if you notify us in advance with name (s) of who will be attending in your place. Event produced by CMI Chat Media Inc.
COMMUNITY PARTNER
LATINCOUVER