Join us and explore the Commercial Drive neighborhood and tantalize your taste buds at several restaurants and cafes. This evening tasting extravaganza is on Wednesday August 23 from 6pm until 10pm and is presented by Vancouver Foodster.
Each restaurant will be serving up Tasting Plates and Tasting Cups for guests to enjoy and you will have a chance to visit many different types of restaurants throughout the event, meet some new food loving friends, meet the chefs, and learn about each of the participating restaurants.
If you haven't been to our previous Tasting Plates events, Novus TV featured one of our previous events on City Lights (view here).
Visit our Tasting Plates site and view our past events, photos and more!
Registration:  Federico's Supper Club -this is where you will show us your printed or digital tickets and will pick up your Tasting Plates Passports and menus.
Participating Restaurants/Establishments
Federico's Supper Club
1728 Commercial Drive
Web:http://www.federicossupperclub.com/
Twitter: @FedericosClub
Instagram @federicosclub
Cuisine: Italian
'Throwback themes and Italian charm, Federico's Supper Club is one of the best dining experiences Little Italy and Vancouver has to offer. Welcoming hospitality in an old school atmosphere, an evening at Federico's comes complete with dinner, live music and dancing, five nights a week, including monthly guest performers and world class tributes. Boasting Italy's prestigious Quality Seal Certification, as well as multiple Dine Out, Diner's Choice and hospitality awards, Federico's is about feel good moments from palate to heart – a truly unique experience.
Rosemary Rocksalt
1350 Commercial Drive
Web: http://www.rosemaryrocksalt.com/
Twitter: @RoseRocksalt
Instagram @rosemaryrocksalt
Cuisine: Bagel Sandwiches
Rosemary Rocksalt is a purveyor of Montreal-style bagels and deli specialties. Born from Joel Siegel's 22-year-old recipe at Siegel's Bagels, Rosemary Rocksalt was co-founded in 2012 by Joel's daughter Parise, along with Ken Sim and Teena Gupta. Having her own hand in the family business for 18 years, Parise is well-versed in the bagel recipes that have made tummies smile and hearts leap for over two decades. Combined with Ken and Teena's decade of experience building Nurse Next Door into a world-class brand, Rosemary Rocksalt is poised to bring the magic of Montreal-style bagels across the continent!
Falconetti's
1812 Commercial Dr,
Twitter:@Falconettis
Instagram: @falconettis
Cuisine:Meaty eats
Falconetti's is a live music venue cleverly disguised as a restaurant… Famous (as seen on Diners, Drive-ins and Dives) in-house ground sausages, as well as an array of home crafted delights to suite every taste. Live music on our stage downstairs 5 nights per week, Trivia on Tuesdays and select local and international DJs on Mondays for our weekly Recovery Room. Head upstairs to our gorgeous rooftop patio to experience the best sunset on the drive!
77k Freeze Iceberg Lounge
2240 Commercial Drive
Twitter: @77kfreeze
Instagram @77kfreeze
Cuisine: Nitro ice cream dessert lounge
77K Freeze is the world's first concept liquid nitrogen dessert lounge that offers freshly made hypercustomizable frozen dessert called "FREEZE". FREEZE is not just an ice cream! It complies a service advocating Dessert Rights. Customers are given full control to create their desserts as frozen yogurt, sorbetto, dairy or non-dairy ice cream made from fresh cream or other plant-based milks. We offer limitless flavour pairings with a vast choice of sweeteners and adjustable level of sweetness. For those who would like to indulge and enjoy desserts in a sophisticated way should try our Dark Matters (alcoholic infused FREEZE).
Turks Coffee Lounge
1276 Commercial Drive
Web: http://www.thedrive.net/turks/
Twitter: @turkscoffee
Cuisine: cafe
Serving locally roasted Milano Coffee.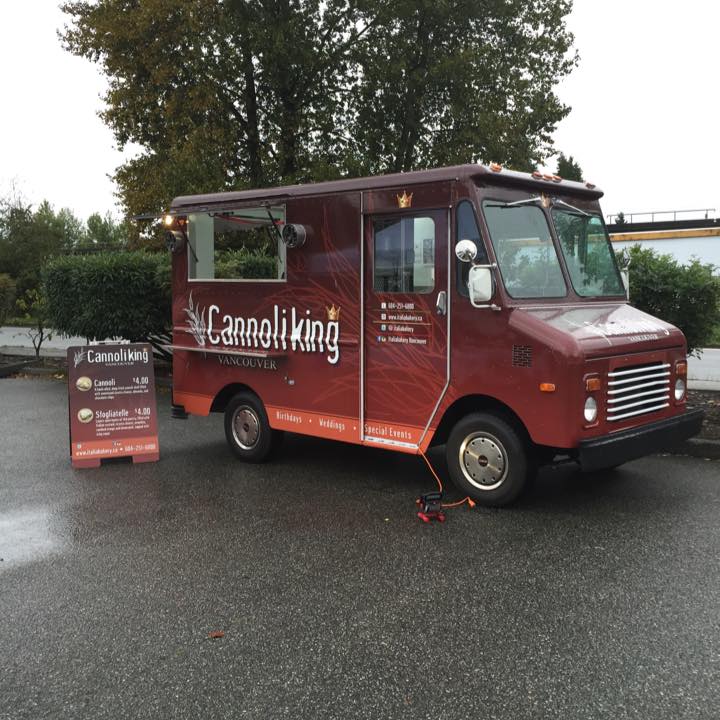 Cannoli King
Web: http://www.cannoliking.ca/
Twitter: @CannolikingVan
Cuisine: Cannoli
The original Sicilian cannoli of Vancouver – locally handcrafted for over 30 years.
Tickets:
Early-Bird Tickets: $35 per person before August 8
Advance Tickets $45 per person after August 8
Regular $60 per person after August 20
Note: Eventbrite fee and GST is extra on all tickets purchased online.
Ticket price includes tasting plates at each of the participating restaurants throughout the evening. (Beverages are included at some restaurants which will be noted, you are welcome to purchase wine, beer, cocktails or mocktails at each of the participating restaurants).
Note: ALL Tickets must be purchased in advance online. All ticket sales are final. No exchanges or refunds; however you are welcome to transfer the ticket to another person for the same event if you notify us at least 48 hours in advance with name (s) of who will be attending in your place. Participating restaurants subject to change. Event produced by CMI Chat Media Inc. This is an all ages event.
Our Community Partner